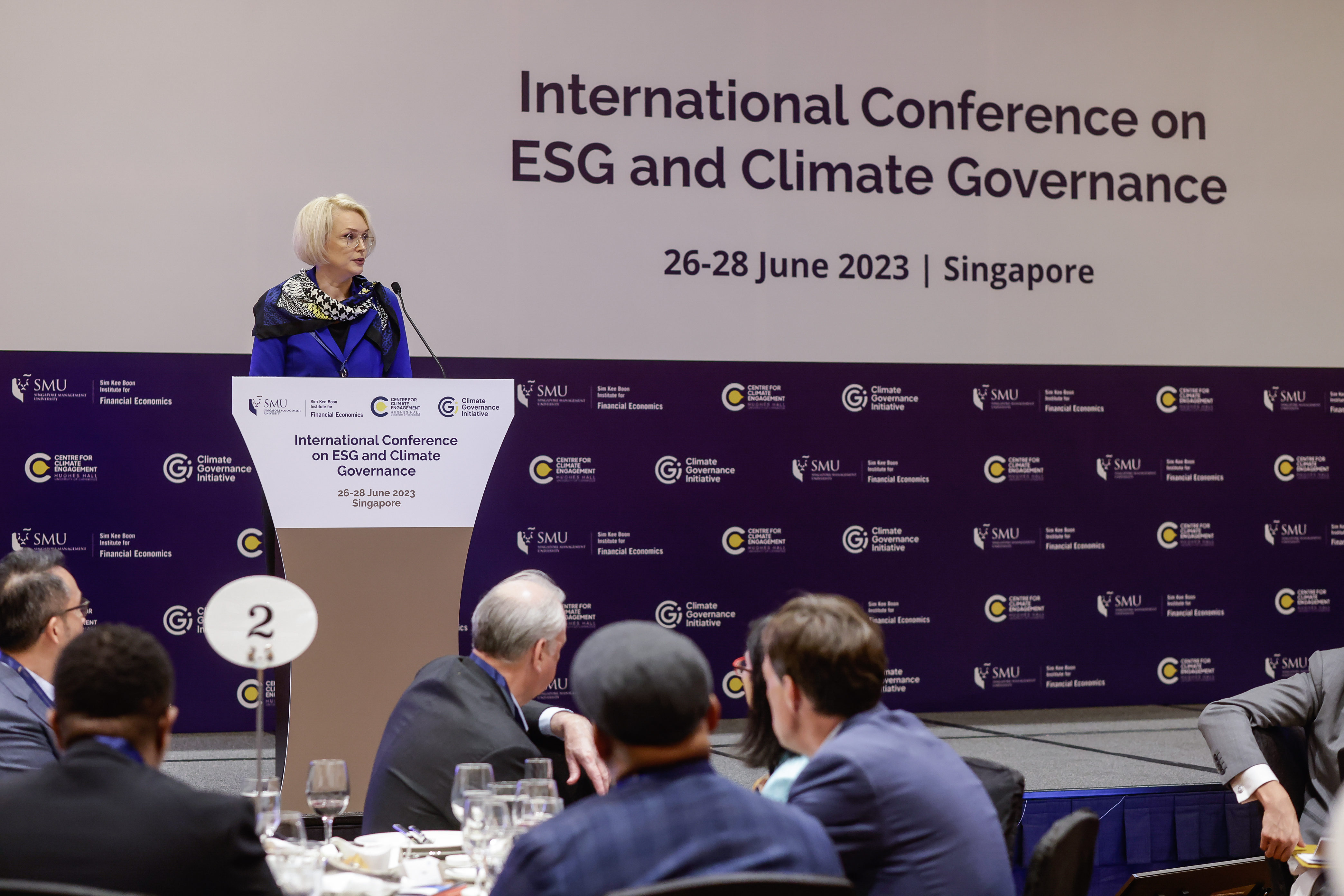 H.E. Kateryna Zelenko, Ambassador Extraordinary and Plenipotentiary of Ukraine to the Republic of Singapore, giving the Guest-of-Honour Keynote at the International Conference on ESG and Climate Governance, held at Marina Bay Sands from 26-28 June 2023.
---
Dear Ladies and Gentlemen,
i'm honored to have an opportunity to address such a distinguished audience of the inaugural International Conference on ESG and Climate Governance. Many thanks to SMU and Cambridge University for such a timely chance to share Ukraine's insights.
We in Ukraine believe that mitigation of climate change is a matter of equal importance worldwide, be it Asia Pacific, or Europe, or any other part of the world. It addresses urgent challenges that have no geographic boundaries and raise similar concerns that cannot be met locally. It might sound surprising, but, according to some forecasts, by the year 2100 in Ukraine, despite its mostly inland location, almost 600 settlements could be affected by the rise of the sea level and about a million of hectares of land, including arable land plots, could go forever beneath the water. So, as you can see, there is no safe haven to sit this storm out, and there is a clear understanding that our joint effort is needed to calm it down.
Therefore, Ukraine has decisively become an active participant of global action on mitigating climate change. We declared carbon neutrality as Ukraine's long-term goal. In 2021 Ukraine committed itself to cutting its greenhouse emissions by 2030 by 65% from the level of 1990. Despite the war, the Ukrainian Government keeps on implementing economy's eco-modernization and green transition. We remain committed to our national determined contributions under the Paris Agreement as well as obligations under the EU Association Agreement's provisions on reducing carbon footprint. Living up to the European Green Deal goes hand in hand with Ukraine's EU membership aspirations.
Our pre-2022 strategy was based merely on balancing ecological and economic development. Solar panels, windmills and hydro-powerplants, eco-farms and metallurgical eco-plants were becoming increasingly a commonplace.
Russia's full-scale military invasion of Ukraine has led to new threats. It is similar to a global earthquake that has not only shaken the rules-based international order, but has also accelerated climate change, exacerbated food crisis and provoked more severe consequences that are likely to be felt over the time far beyond Ukraine's borders.
The environmental damage to Ukraine from Russia's war has been estimated at 46 billion USD. More than 2,300 instances of environmental damage caused by the fighting were recorded. Almost 500,000 hectares, including 10 national natural parks, 8 reserves, 2 biosphere reserves, remain under Russia's occupation.
Today, Ukraine is one of the most mined countries in the world: about 30% of Ukraine's territory remain dangerous because of enemy mines and exposive debrises. Since the start of Russia's full-scale invasion, we detected >600,000 explosive items.
The largest in scale crime of ecocide is the detonation of the Kakhovka Hydroelectric Power Plant on 6 June 2023. With no exagguration, it has the power of the environmental weapon of mass destruction, which long-lasting impact will be affecting at least the wider Black Sea region and, with high probability, even some remoted areas.
Over 3,000 houses were flooded. More than 3,700 people, including almost 500 children, have been evacuated from the disaster area there. 18 people have died (some of them were shot by Russian military during the evacuation) many went missing. Hundreds of thousands of citizens remain without or with a very limited water supply. Moscow declined the UN request to deliver humanitarian aid to the people affected there.
Let alone the ecosystems destroyed or pushed to the brink of extinction. The fuel storage facilities, warehouses with chemicals and fertilizers, animal burial grounds were flooded. Sewage got into the water. Thousands of species died, including animals of Zoo in the occupied town Nova Kakhovka, whom Russian military banned to evacuate.
Due to damage caused by this man-made ecological disaster vast agricultural areas in southern regions of our country will not be arable until the dam is reconstructed. It will lead to worsening of the food crisis in vulnerable areas of Africa, Middle East and Asia.
Naturally, sustainable development is impossible without sustainable peace.
Hence it is sad, that while focusing on the critical environment challenges, global warming, food security, supply chains, the world is forced to discuss a possible scenario of a nuclear desaster at the currently mined Zaporizhia Nuclear Power Plant that is under Russia's temporary control. Needless to say, its consequences would be global. Joint and robust international action is required to avert the catastrophe.
Undoubtedly, the most effective response to these threats is the end of the war. Meanwhile the liberation of Ukraine's territory continues, new initiatives are already being introduced by Ukraine's partners, whose support we highly appreciate.
Despite Europe's pre-war high dependence on energy imports, our European partners did not give in to Putin's gas blackmail. They found alternatives to fill in the shortage of energy resources along with development of renewable energy, energy saving and energy efficiency.
Ukrainians, of course, do not stand aside of this process.
Within the first days of the full-scale invasion, Ukraine synchronized itself with EU's ENTSO-E system. The move had been a part of a longer-term plan, but the war impelled us to move at a much faster pace, before the relevant level of energy efficiency was achieved by our country. Hence, eco-modernization was raised to priority for the Government and society.
In addition, 33 massive missile attacks on Ukraine's energy sector that resulted in the blackouts from October 2022 to March 2023 contributed to re-assessment of urgency of ensuring energy efficiency as well as a role that every citizen and every business are able to play in meeting the challenge. Here is a space for civil sector and donors to step in.
For example, one such project called "100 Solar Schools" is implemented by the NGO "Energy Act for Ukraine", which has been launched after the start of full-scale invasion in order to provide civilians with assistance in surviving electricity cuts. Its goal is to equip with solar panels 100 schools and 50 hospitals in the regions affected by the war to ensure their "energy independence". The first in turn was the school No.17 located in the town Irpin to the North-East from Kyiv, which has suffered a lot during the Russian occupation of March 2022. Just imagine, the school building was shelled roughly 30 times and 5 times severely damaged by the Russian artillery. Now it will become more than just an energy self-sustainable education facility, it will be a kind of "sustainability center" for local community, considering the continuous missile attacks on Ukrainian civil residential areas and critical infrastructure.
As Francis of Assisi once said: start by doing what`s necessary, then do what`s possible, and suddenly you are doing the impossible. It might sound applicable to mitigating climate change in many parts of the world. But for Ukraine it sounds like a plan: a plan of achieving peace, a plan of recovery, a plan of survival.
ESG is not only about nature, its firstly and foremostly about people. I'm sure that the potential of humanity is extremely high, and in this I see an extraordinary perspective for making a difference and transforming the world into a more secure place for generations to come.
Thank you.
---
About the International Conference on ESG and Climate Governance
The inaugural International Conference on ESG and Climate Governance brings together academic experts, practitioners, and board directors from six continents, across disciplines and industry sectors to address theoretical and practical challenges to climate action across the world by drawing on academic expertise to develop impactful solutions which can be put to practice. View the conference page here.
About H.E Kateryna Zelenko
Her Excellency Ambassador Kateryna Zelenko is a career diplomat. Prior to her accreditation to Singapore, she served as the Spokesperson of the Ukrainian Foreign Ministry and Deputy Director of the Communications and Public Diplomacy Department. Ambassador Zelenko joined the Ministry of Foreign Affairs of Ukraine in 2002. Her postings abroad include Ukrainian Embassy in the Republic of Austria and Permanent Mission of Ukraine to the International Organisations in Vienna, later, from 2007 to 2011 and from 2014 to 2018 – Embassy of Ukraine in the Federal Republic of Germany, where she was covering culture, press and public diplomacy issues. In 2018 she returned to Kyiv to work in the Political Department of the Ukrainian Foreign Ministry. Her appointment as Ukraine's MFA Chief Spokesperson followed shortly thereafter. Kateryna Zelenko obtained her Master in International Relations and Foreign Policy at the Institute of International Relations of Taras Shevchenko National University of Kyiv (Ukraine).
SUBSCRIBE TO THE SKBI MAILING LIST*
Be alerted on SKBI news and forthcoming events.
*Please note that upon providing your consent to receive marketing communications from SMU SKBI, you may withdraw your consent, at any point in time, by sending your request to skbi_enquiries [at] smu.edu.sg (subject: Withdrawal%20consent%20to%20receive%20marketing%20communications%20from%20SMU) . Upon receipt of your withdrawal request, you will cease receiving any marketing communications from SMU SKBI, within 30 (thirty) days of such a request.