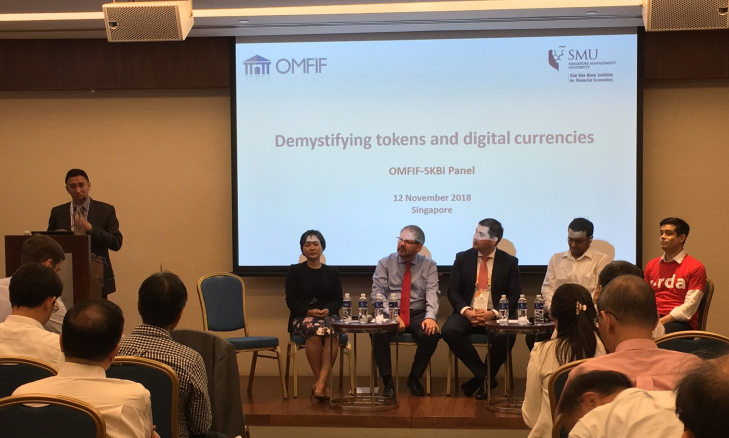 [Feature Photo: (L-R) SKB Institute Director, Prof Dave Fernandez, Ms Serey Chea, Director General of Central Banking, National Bank of Cambodia, Mr Klaus Löber, Head of Oversight Division, DG Market Infrastructure and Payments, European Central Bank, Mr Artur Granicki, Director, Polish Financial Supervision Authority, Mr Varun Mittal, Global Emerging Markets Fintech Leader, EY, Mr Antony Lewis, Director of Research, Cash & CBDC Strategy, R3.]

The Institute led two seminars on FinTech. On 25 October, Prof. Dave Fernandez moderated a panel on "Compliance around Initial Coin Offerings (ICOs) and Stable Tokens" at the Institute of Banking & Finance (IBF) Singapore. His panel included the Head of Research for R3, a Researcher from the NUS Centre for Banking & Finance Law, and a private-sector investor in cyrptocurrency custody. Then, on 12 November, the Institute hosted a high-level panel on "Demystifying ICOs, tokens, and digital currencies," as part of the 2018 Singapore FinTech Festival. Panelists included the National Bank of Cambodia, the Polish Financial Supervision Authority, the European Central Bank, and from the private sector, R3 & EY.
Photos are available for viewing here.
SUBSCRIBE TO THE SKBI MAILING LIST*
Be alerted on SKBI news and forthcoming events.
*Please note that upon providing your consent to receive marketing communications from SMU SKBI, you may withdraw your consent, at any point in time, by sending your request to skbi_enquiries [at] smu.edu.sg (subject: Withdrawal%20consent%20to%20receive%20marketing%20communications%20from%20SMU) . Upon receipt of your withdrawal request, you will cease receiving any marketing communications from SMU SKBI, within 30 (thirty) days of such a request.