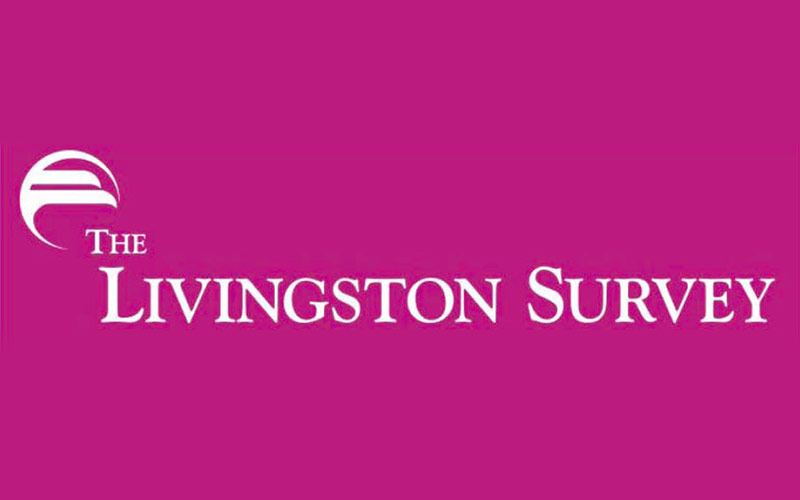 About
The Livingston Survey was started in 1946 by the late columnist Joseph Livingston. It is the oldest continuous survey of economists' expectations. It summarizes the forecasts of economists from industry, government, banking and academia. The Federal Reserve Bank of Philadelphia took responsibility for the survey in 1990.
SKBI Principal Researcher, Thomas Lam, has been participating in The Livingston Survey as the only Asian voice.
June 2023
Forecasters Strengthen Their Projections for Real GDP Growth and Lower Their Predictions for Unemployment Rate.
December 2022
Forecasters Project Decreasing Real GDP Growth and Increasing Unemployment Rate for 2023.
June 2022
Forecasters Lower Their Forecasts for Real GDP Growth and the Unemployment Rate.
December 2021
Forecasters Revise Down Real GDP Growth for Second Half of 2021; Revise Up Growth for First Half of 2022.
June 2021
Forecasters strengthen their forecasts for real GDP growth and the unemployement rate.
December 2020
Forecasters revise up real GDP Growth for second half of 2020; revise down growth for first half of 2021.
June 2020
Sharply Negative Growth in Real GDP and High Unemployment for First Half of 2020, Recovery Second Half of 2020.
December 2019
Forecasters Predict Lower Output Growth for the Second Half of 2019.
June 2019
Forecasters Predict Declining Growth and Steady Unemployment.
December 2018
Forecasters Predict Slightly Lower Output Growth and Steady Unemployment for 2019.
SUBSCRIBE TO THE SKBI MAILING LIST*
Be alerted on SKBI news and forthcoming events.
*Please note that upon providing your consent to receive marketing communications from SMU SKBI, you may withdraw your consent, at any point in time, by sending your request to skbi_enquiries [at] smu.edu.sg (subject: Withdrawal%20consent%20to%20receive%20marketing%20communications%20from%20SMU) . Upon receipt of your withdrawal request, you will cease receiving any marketing communications from SMU SKBI, within 30 (thirty) days of such a request.