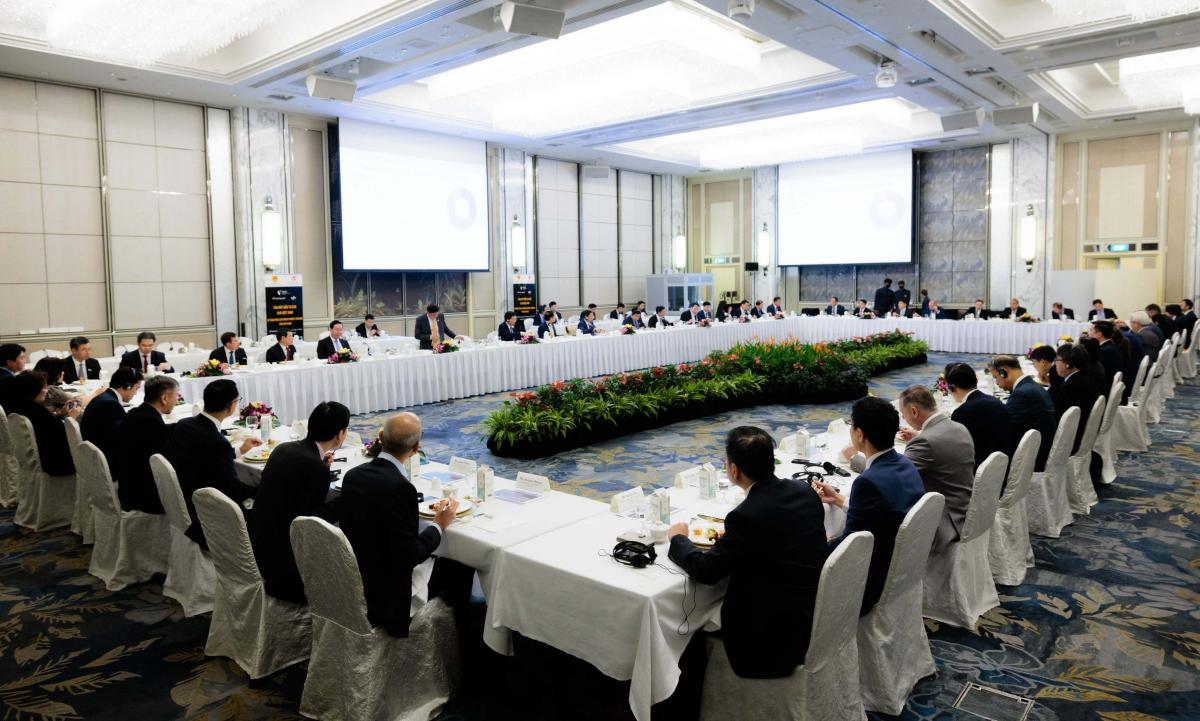 VIETNAMESE PRIME MINISTER MEETS WITH GLOBAL INVESTMENT FUNDS AND BANKS IN SINGAPORE
Dialogue focused on attracting low-cost funding, ESG investment for sustainable economic development
On February 10, 2023 Vietnamese Prime Minister Pham Minh Chinh participated in a roundtable dialogue with representatives of some of the world's leading banks and investment funds to discuss ways to attract ESG (Environmental, Societal and Governance) investment and other sources of low-cost funding for Vietnam. The roundtable, which was part of the Prime Minister's official visit to Singapore from February 8 to 10, was hosted by the Vietnam Ministry of Planning and Investment and the Embassy of Vietnam in Singapore in collaboration with the Singapore Management University (SMU), VinaCapital Group, and FPT Asia Pacific.
With the topic of attracting ESG investment and low-cost funding for Vietnam, the event reaffirmed the Vietnamese Government's commitment to creating a stable, attractive and competitive environment for investors in the country's sustainable development. ESG is now an important factor that many global investors consider in determining where they will invest, although the concept is still relatively new to the business community in Vietnam. The report "Readiness to practice ESG in Vietnam in 2022" prepared by PwC and Vietnam Institute Of Directors shows that 71% of Vietnamese enterprises are not equipped with adequate knowledge and data to develop ESG reports, which are important for investors in evaluating potential investments.
In the presentation "ESG Investing in Vietnam" by Associate Professor Liang Hao, Co-Director of SMU's Singapore Green Finance Center, he pointed out that the total value of SRI (Socially Responsible Investment) assets globally reached USD35.3 trillion in 2020, but Asia (excluding Japan) accounted for less than 1% of that figure. He added however in Vietnam, the development of the ESG investment market was still in its infancy, but there were already promising signs of progress such as the introduction of the Ho Chi Minh Stock Exchange's Sustainable Development Index (VNSI). Further, some domestic investment funds, including VinaCapital, consider ESG as a mandatory standard to evaluate before deciding whether to invest.
At the roundtable, the representatives of banks and investment managers including HSBC, SMBC Bank and VOF expressed their interest in providing capital to projects in Vietnam in the areas of digital transformation, green energy, infrastructure development and high-quality training. Meanwhile, funds such as Warburg Pincus and Temasek stressed the need for incentive policies for ESG because investments in these fields often have a much longer investment horizon than other industries. The participants noted that to lower the cost of funding, there needed to be proper regulatory and revenue framework in place to reduce projects' risk profiles, transparent regulatory and legal frameworks, the right balance of risk allocation, and a stable currency.
Minister of Planning and Investment Nguyen Chi Dung as well as Deputy Minister of Information and Communications Nguyen Huy Dung affirmed that Vietnam would study and soon issue policies to further attract investment, especially in the field of infrastructure development, including both transportation and digital infrastructure. Regarding energy, Minister of Industry and Trade Nguyen Hong Dien also expressed his desire for foreign businesses to participate in investment to achieve Vietnam's goal of 10% annual green electricity growth, with a focus on wind and solar power, both of which are abundant in Vietnam. According to estimates by the World Bank (WB), from now to 2040, Vietnam needs an investment capital of about 370 billion USD (equivalent to about 6.8% of GDP/year) to simultaneously withstand climate change and neutralize carbon emissions.
To solve this problem, Assoc Prof Liang recommended that the Government issue GSS (Green, Social & Sustainability) bonds as has been done in many other countries. As of June 2022, the global GSS bond market reached USD3.3 trillion, although the issuance of GSS bonds in Vietnam is still limited. Assoc Prof Liang also recommended offering more ESG investment products and embracing more active ESG investment strategies such as impact investing. In addition, in order to increase ESG investment in Vietnam, many other parallel measures are needed such as strengthening the legal framework, raising awareness, building a complementary ecosystem as well as actively cooperating in the region.
All of these recommendations have been recognized by the head of the Government of Vietnam and he committed to creating the best conditions for companies and funds that are dedicated to investing in Vietnam's sustainable development for the long term, with the goal of building a green, clean, and beautiful country. The Prime Minister reaffirmed that Vietnam would devote all resources to ensure macroeconomic and legal stability, and always welcomes investment funds that share their vision for a prosperous country built on a foundation of sustainability.
VinaCapital Group cohosted the event with knowledge partner SMU as part of the Group's longtime mission to bringing investment into Vietnam. ESG investment and other sources of low-cost funding are critical for realizing the country's full potential in green energy, which in turn can drive other key initiatives such as digitalization and infrastructure.
Recognising Vietnam as a key partner to Singapore, SMU Provost Timothy Clark in his remarks at the roundtable said that "It was an honour for SMU to co-host the luncheon. SMU has established a nine-member International Advisory Council for Vietnam to guide and advise the University on the direction and approaches to strengthen and deepen SMU's collaboration and engagement with the government, academic and business communities of Vietnam. SMU is also planning to set up an Overseas Centre in Ho Chi Minh City. This new Centre will help develop mobility opportunities for SMU and Vietnamese students; offer professional training and upskilling programmes for executives of Vietnamese companies; identify possibilities for the Vietnamese public and private sectors, as well as higher education institutions to engage with and forge collaborations with SMU; and be a one-stop resource centre for educators and researchers of both countries. We very much look forward to deepening our relationships in Vietnam."
Article by VinaCapital, with inputs from SMU
SUBSCRIBE TO THE SKBI MAILING LIST*
Be alerted on SKBI news and forthcoming events.
*Please note that upon providing your consent to receive marketing communications from SMU SKBI, you may withdraw your consent, at any point in time, by sending your request to skbi_enquiries [at] smu.edu.sg (subject: Withdrawal%20consent%20to%20receive%20marketing%20communications%20from%20SMU) . Upon receipt of your withdrawal request, you will cease receiving any marketing communications from SMU SKBI, within 30 (thirty) days of such a request.