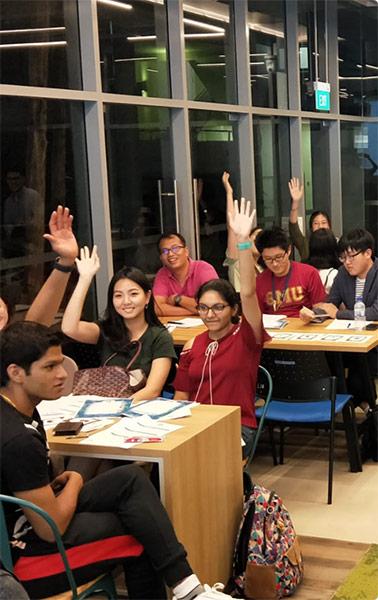 About Workshops
Aimed at equipping young adults with essential financial skills in money management, accumulating wealth and gaining a head start in life, the Citi Foundation-SMU Financial Literacy Program for Young Adults offers a wide variety of workshops. The Program collaborates with each partner institution and beneficiary to specially design a syllabus that meets the needs of their target audience and learning objectives.
Methodology
The workshops encourage an immersive and experiential game based learning environment to create meaningful sessions for participants. These include roleplays, hybrid online/physical group discussions, case studies and carefully curated games that are developed in-house.
Since the start of COVID-19 pandemic, many of these games have been digitised, augmenting the Program's commitment to being at the forefront of innovation and attaining long term sustainability.

Street Credit Game

Insurance Game

Wizard Game

Game of Life
Interested to collaborate?
If you represent an educational institution, non-profit organisation or self-help group (SHG), contact us via our Contact Us page to find out how you can join our workshops today.
Let us build a session that can effectively help you carve out a secure path in today's complex world of personal finance.
Level 1
Topic 1: Money's Function in Our Lives
Topic 2: Watch Out for Your Dollar
Topic 3: Financial Management for Juniors
Level 2
Topic 4: Economics of Money
Topic 5: Don't be Chained by Money
Topic 6: Protection for Those Rainy Days
Level 3
Topic 7: Steady Savings for A Happy Retirement
Topic 8: What's Your Plan? – Basic Financial Planning
Topic 9: Where To Put Your Money – Basic Investments
Level 4
Topic 10: Family: The Greatest Wealth – Advanced Financial Planning
Topic 11: Beyond Stocks and Bonds – Advanced Investments
Topic 12: FinTech: Understanding the Art and Science of Financial Innovation
SUBSCRIBE TO SKBI MAILING LIST*
Be alerted on SKBI news and forthcoming events.
*Please note that upon providing your consent to receive marketing communications from SMU SKBI, you may withdraw your consent, at any point in time, by sending your request to skbi_enquiries [at] smu.edu.sg (subject: Withdrawal%20consent%20to%20receive%20marketing%20communications%20from%20SMU) . Upon receipt of your withdrawal request, you will cease receiving any marketing communications from SMU SKBI, within 30 (thirty) days of such a request.