Thomas Lam, principal researcher at Sim Kee Boon Institute for Financial Economics, cautions in this piece that overreliance on "new" monetary policy can lead to unintended consequences.
Thomas Lam, principal researcher at SKBI, participated in an exclusive panel discussion on "COVID-19 and its Economic Impact".
Here are the details of the PwC webinar.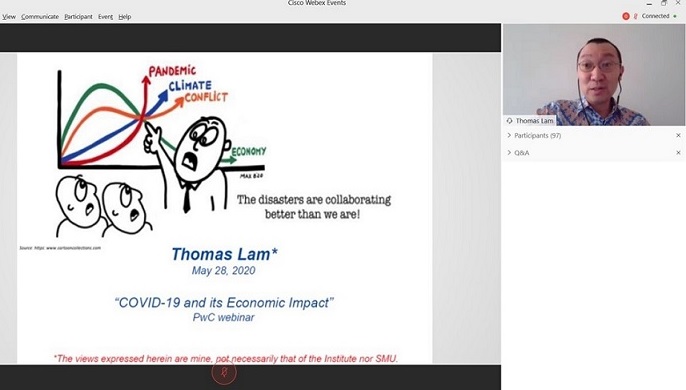 A majority of Singaporeans (roughly 60%) expect COVID-19 to have a "moderate impact" on both economy and household inflation expectations, with the effects lasting "around one year." This is according to the latest DBS-SKBI Singapore Index of Inflation Expectations (SInDEx) Survey at the Sim Kee Boon Institute for Financial Economics (SKBI), Singapore Management University (SMU). Note that the survey was conducted prior to the "circuit breaker" period.
In a commentary, SMU Principal Research Associate of Sim Kee Boon Institute for Financial Economics, Thomas Lam shared his analysis and concluded that the current US recession can prospectively be longer, perhaps more dire, followed by a weaker-than-expected recovery.
The coronavirus started in Asia and as it spreads around the world it is worth reflecting on the region's central bank responses so far and thinking about what may happen in the near future. Monetary policy actions in Asia and globally have received much attention and justifiably so. But as the fiscal responses to the potential global recession grow, harder questions about central bank limits are coming soon.
Where are we now? So far, it's "follow the Fed" – a maxim that still applies, including in Asia. The Fed's extensive actions, which consist of a series of intermeeting announcements since Sunday 15 March to before the opening bell on 23 March, undoubtedly sets the bar for other central banks.
In Asia Pacific, March has seen policy rates drop in Australia (to 0.25%), Indonesia (4.50%), Korea (0.75%), Malaysia (2.50%), New Zealand (0.25%), the Philippines (3.25%), Thailand (0.75%), and Taiwan (1.125%), with Hong Kong (0.86%) following its pre-set formula based on the Fed Funds rate. In terms of asset purchases, Korea announced it would buy government bonds to stabilize markets, while Japan increased its buying program for both equities and corporate debt. The Fed's move to expand its central bank swap lines, though notably not with China, underlines the risk posed by a potential global dollar shortage.
In the future, the Fed may follow Asia, at least a bit, in terms of expanding its toolkit. Former Fed Chair Bernanke gave a nod to Asia in his January American Economic Association Presidential Address, citing a version of Japan's yield curve control (YCC) as a policy worth considering possibly for the 2-year Treasury (Governor Brainard also floated following Japan in this way). Notably, Australia adopted its version of YCC, modified by targeting the yield on its 3-year sovereign. In contrast, venturing into negative rates, as has been done in Europe and later, unfortunately in Japan, is unlikely for other of the region's central banks, let alone the Fed, given the risk-reward consideration.
Stepping back, it should go without saying that central banks should not be the focus of policy responses to the coronavirus pandemic and its devastating consequences. In that respect, Singapore and China – places where virus containment protocols of first-order importance are quickly becoming global models – bear some attention. Singapore this week joined the global trend and eased its monetary policy settings, but the MAS statement clearly states that its stance, "reflects the primary role of fiscal policy in mitigating the economic impact of COVID-19." In mainland China, cuts in lending reference rates have defied market forecasts and instead have been very measured, with the focus again more on fiscal policy.
The emphasis on fiscal policy will likely get even more pronounced with Singapore taking the lead globally by adding another close to 10% of GDP to its package. Returning to monetary policy, eventually those Asian central banks not yet at their effective floor may get there. At some point, perhaps soon, thornier questions about politicizing monetary policy, central bank independence, and monetizing government spending will be heard more frequently. In Asia, the line between the central bank and the government was never as bright as it became in the US in the post-Volcker world. Unless Asia sees green shoots of a recovery in the coming months, full-blown, internally-coordinated national responses will be demanded, including the deployment of sovereign wealth funds that countries like the US lack. In that situation, don't be surprised to find more Asian central banks more integrated into their national teams.
Dave Fernandez is a professor and the director of the Sim Kee Boon Institute for Financial Economics at Singapore Management University. He is an Advisory Panel member of the ASEAN+3 Macroeconomic Research Office. This article appeared in the Singapore Business Times, 1 April 2020 and can be seen here: https://tinyurl.com/uzlej9f
How do bank loans affect the environment and the communities in which the loan recipients operate? SMU's Sim Kee Boon Institute recently concluded a pilot project for DBS Bank, together with the Netherlands' Impact Institute, in this emerging area of "impact measurement." Challenges for impact measurement include the subjectivity of scope and criteria, as well as lack of consistency across different rating agencies and data providers. Nevertheless, we find the DBS pilot, that looks at palm oil and electric vehicles, a very worthwhile step toward a consolidated approach to assessing the broader impact of bank loans.
See full paper here.
Singapore, 3 March 2020 (Tuesday) – The SKBI Big5 survey focuses on the multiyear outlook and assessment of the biggest five economies in the world (in PPP-terms), namely China, Euro Area, India, Japan and United States.
The Institute, via the Big5 survey and Post-Survey event, seeks to establish a recurrent platform in Singapore for a diverse group of participants to explore the relevant risks and opportunities surrounding the global economic landscape. The latest survey questionnaire was sent out, with all responses received, in February 2020.
SKBI Event: The Importance of Data Connectivity in Financial Services
6 February 2020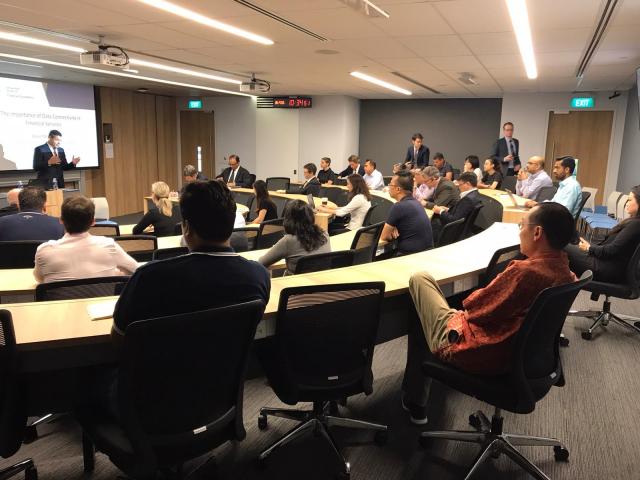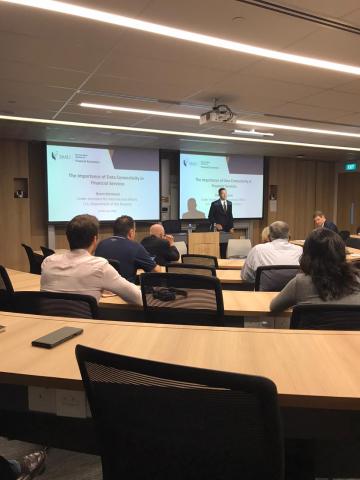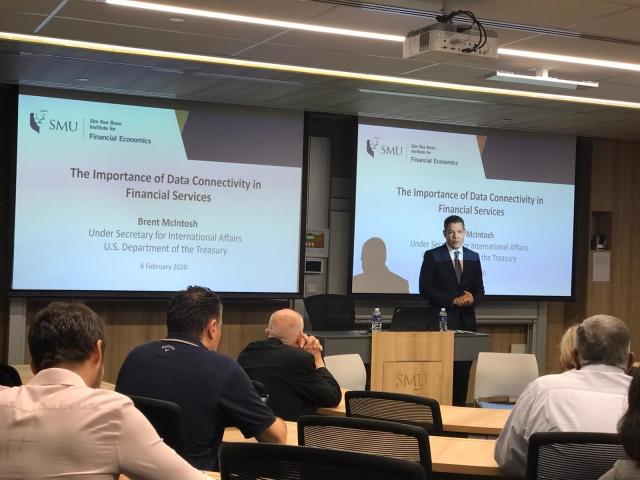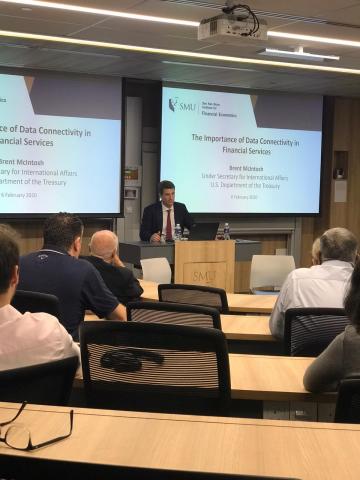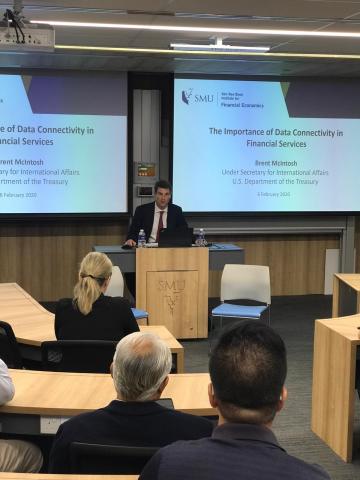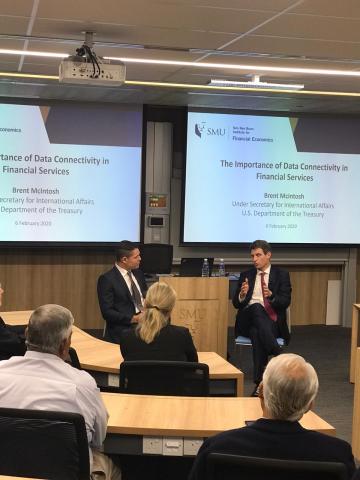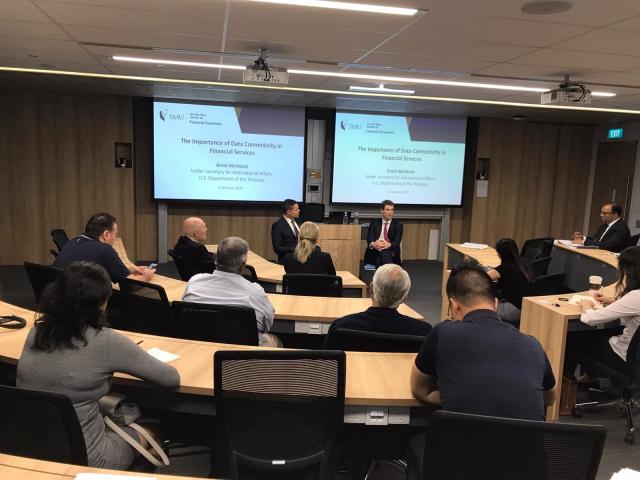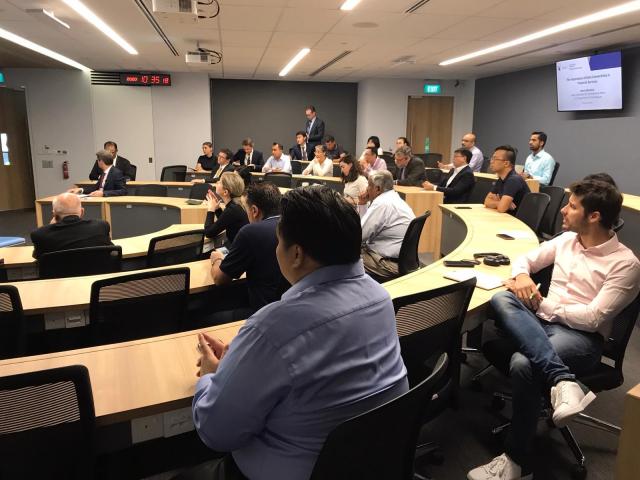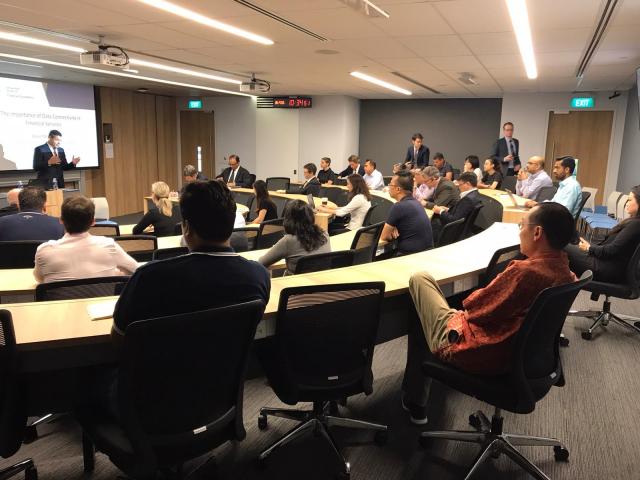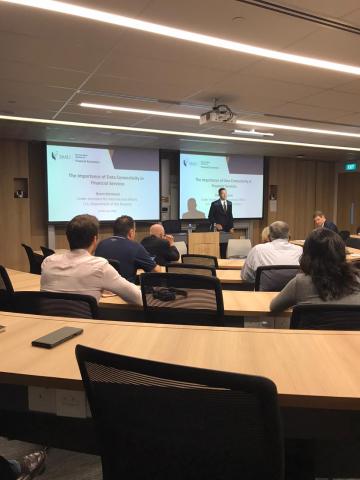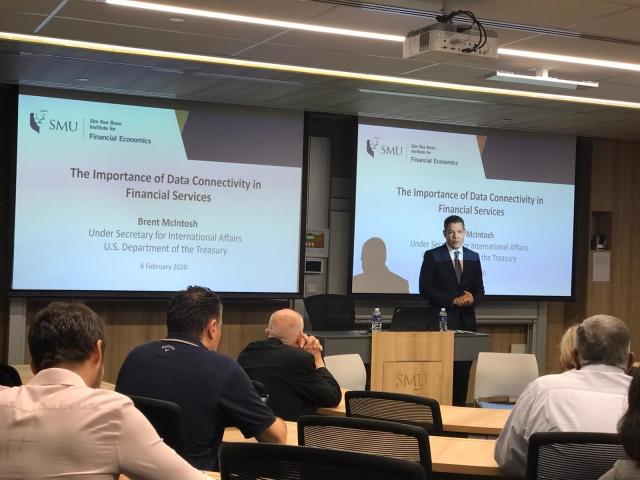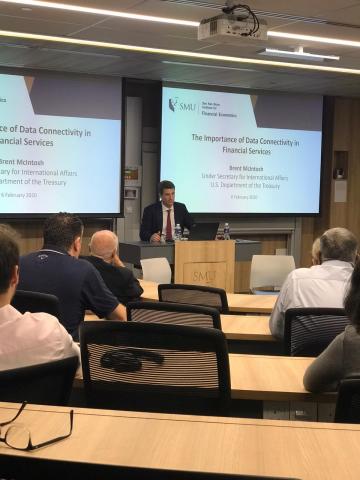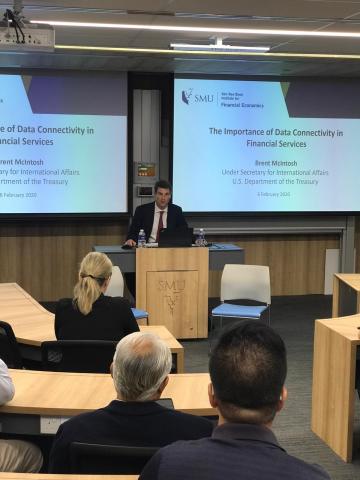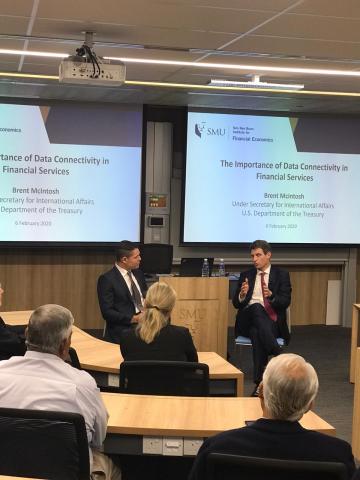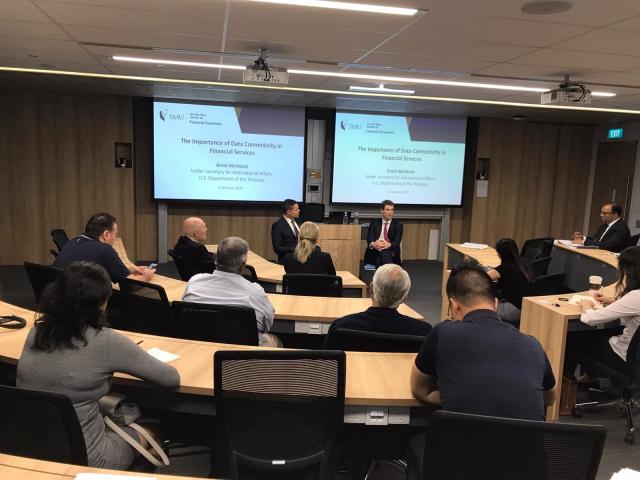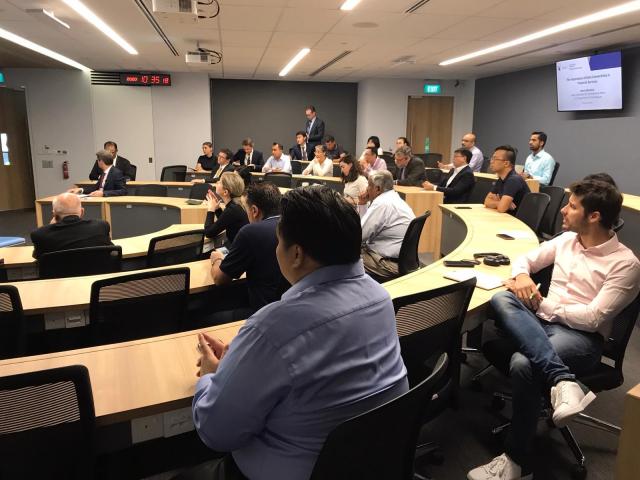 At the 9th Annual Sim Kee Boon Institute for Financial Economics (SKBI) Conference on sustainable finance, experts said that companies are increasingly considering environmental factors when making investment decisions. Organised in partnership with the TBLI Group of the Netherlands, the two-day conference was held on 7-8 November 2019.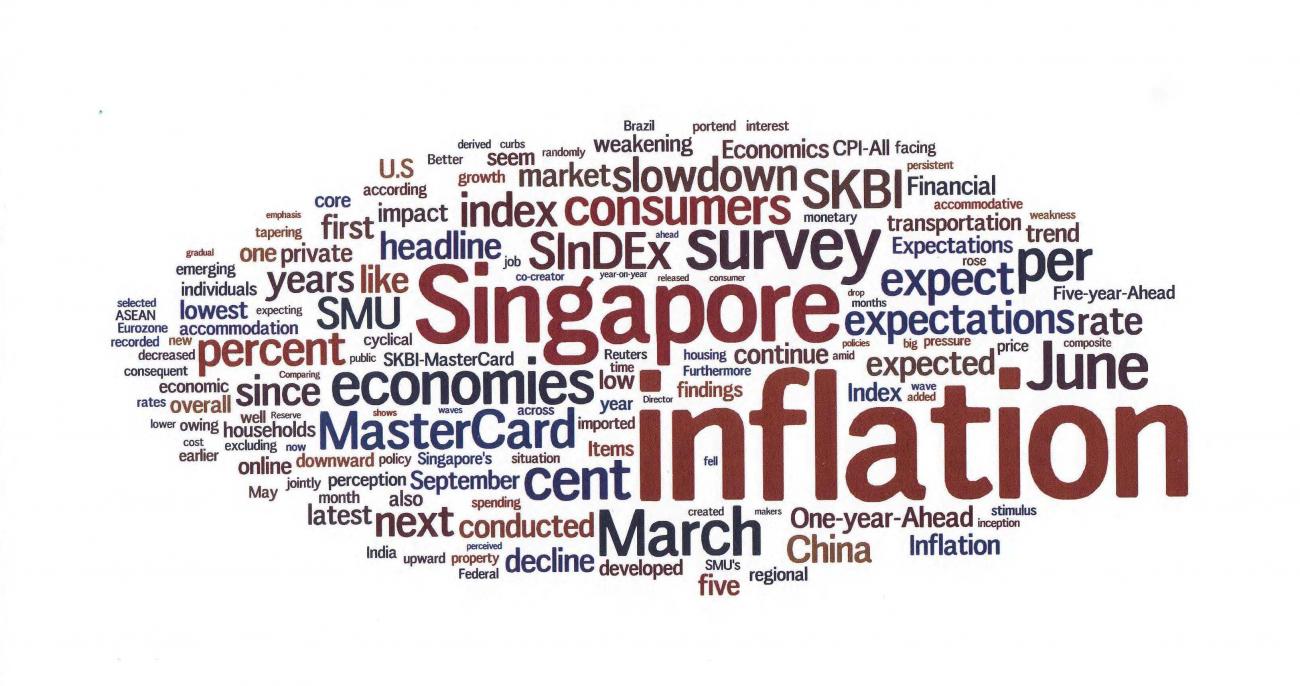 SINGAPORE, 20 January 2020 (Monday) - These are the research findings of the 34th round of quarterly release for the DBS-SKBI Singapore Index of Inflation Expectations (SInDEx) Survey at the Sim Kee Boon Institute for Financial Economics (SKBI), Singapore Management University (SMU).
One-year-Ahead headline inflation expectations remained unchanged at 3.2% in December 2019, from September 2019, and largely the same as the 2011-18 fourth quarter average of 3.3%.

The overall CPIEx Inflation Expectations, after adjusting for potential behavioral biases and re-combining across components, eased to 3% in December 2019 compared to 3.3% in September 2019.

Excluding accommodation and private road transportation related costs, the One-year-Ahead Core CPIEx inflation expectations was slightly higher at 3.4% in December 2019 compared to 3.3% in September 2019.

For a subgroup of the population who own their accommodation and use public transport, the One-year-Ahead CPIEx core inflation expectations pared to 3% in December 2019 from 3.2% in September 2019. Not being exposed to private road transportation or accommodation expenses, this subgroup's expectations of core inflation closely resemble the Singapore Core Inflation Expectations.

The one-year-ahead composite index SInDEx1, that puts less weight on more volatile components like accommodation, private transport, food and energy, polled at 3.2% remained unchanged in the December 2019 SInDEx survey.
DBS Chief Economist and Managing Director of Group Research, Dr. Taimur Baig commented, "Unlike recent developments in China and India, where idiosyncratic factors have pushed up food prices, along with the overall CPI, prices have been remarkably stable in Singapore lately. Despite an impending GST hike, inflation expectations remain well anchored."
"The stability of Singapore's inflation expectations also contrasts with a similar survey conducted by the Melbourne Institute which showed consumer inflation expectations in Australia rising in Q4, coincident with the bushfires that have only intensified recently," noted SMU Professor and SKBI Director Dave Fernandez.
SMU Assistant Professor of Finance and Principal Investigator of the DBS-SKBI SInDEx Project, Aurobindo Ghosh observed, "The global economy is facing significant headwinds from the sluggish growth in China and India, which is affecting global consumer confidence, despite the US economy showing significant resilience. Against this backdrop, Singaporeans seem to have calibrated their inflation expectations to hold steady in the medium term despite accommodative monetary policy at home and abroad."
For the longer horizon, the Five-year-Ahead CPIEx inflation expectations in the December 2019 survey stayed unchanged at 4.1% compared to September 2019. The current polled number is the same as the 2011–2018 fourth quarter average of 4.1%.
The Five-year-Ahead CPIEx core inflation expectations (excluding accommodation and private road transportation related costs) fell from 3.9% in September 2019 to 3.6% in December 2019. Overall, the composite Five-year-Ahead SInDEx5 inched down to 3.8% in December 2019 from 4% in September 2019. In comparison, the 2011–2018 fourth quarter average value of the composite Five-year-Ahead SInDEx5 was at 4%.
"While designing the DBS-SKBI SInDEx survey questionnaire, SMU researchers have included several methods of validating and mitigating possible behavioural biases which academic researchers have identified as challenges to survey-based measures of inflation expectations. It has also been conjectured by policy academics and practitioners that while the overall level of inflation expectations using survey-based measures might be biased upwards, the change points and comparisons with past surveys signals the changes in inflation expectations better," Prof. Ghosh added.