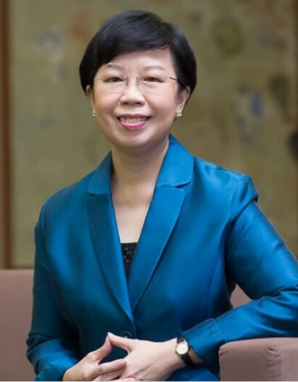 Professor Lily Kong
President
Singapore Management University

(Adapted from the Foreword of the 2018 Annual Report)
"A 2015 report by the S&P Global Financial Literacy Survey revealed that Singaporean adults are ranked the highest in Asia in terms of their financial literacy and financial knowledge.
While that was heartening news, it is likely that Singaporeans will have to take still greater responsibility for their own financial future, with the advancement in healthcare leading to higher life expectancy, the decline in traditional retirement benefits due to intense global competition, and the advent of the gig or sharing economy.
As with many things in life, it is best to start when one is still young, and this applies to financial literacy and preparing for one's financial future as well.
SMU is proud to have partnered Citi Singapore for the Financial Literacy Program for Young Adults since 2012 as the first structured financial literacy program for young adults in Singapore. The Program has created meaningful impact by training more than 400 student trainers from SMU, Polytechnics and Institute of Technical Education, who have in turn reached out to more than 30,000 young adults from these academic institutions and other organisations.
Beyond the number of beneficiaries the Program has reached out to, SMU and Citi decided to embark on a study in 2018 to look into the effectiveness of the Program in imparting financial knowledge and nurturing responsible financial behaviour. The results of the study have been encouraging - 60% of the participants who responded to the survey have expanded their basic understanding of personal finance and increased their financial literacy, and 44% respondents have started a regular savings account three to six months after the attending the Program.
The study showed how the peer-to-peer, interactive and experiential pedagogical model adopted by the Program has enabled young Singaporeans to achieve better financial well- being by maintaining good financial habits.
The Citi-SMU Financial Literacy Program has made good progress since its inception.
The Program complements that of the Singapore Government's, which runs the national financial education program called MoneySENSE. SMU will continue to work closely with Citi to expand the scope and reach of our Program, so that more young adults in Singapore will be able to benefit. We also look forward to working with more like-minded partners so that the Program's content offerings will be enriched."
SUBSCRIBE TO SKBI MAILING LIST*
Be alerted on SKBI news and forthcoming events.
*Please note that upon providing your consent to receive marketing communications from SMU SKBI, you may withdraw your consent, at any point in time, by sending your request to skbi_enquiries [at] smu.edu.sg (subject: Withdrawal%20consent%20to%20receive%20marketing%20communications%20from%20SMU) . Upon receipt of your withdrawal request, you will cease receiving any marketing communications from SMU SKBI, within 30 (thirty) days of such a request.